FANCY FACE PHOTOBOOTHS COVERING THE NORTH WEST
WHY FANCY FACE PHOTOBOOTHS?
AT  FANCY FACE PHOTO BOOTHS WE KNOW NOT EVERY WEDDINGS IS THE SAME.
WE ALSO KNOW HOW STRESSFUL  PLANNING A WEDDING IS.
WE TAKE ALL THIS HASSLE AWAY FROM YOU WE HAVE HUNDREDS OF HAPPY BRIDES AND GROOMS UNDER OUR BELT YOU CAN REST SAFELY IN THE KNOWLEDGE THAT WE WILL TAKE CARE OF EVERYTHING.
LETS TALK!
GUEST BOOK
WE ALSO OFFER GUEST BOOKS EVERY TIME THE PHOTOBOOTH PRINTS OUT A PHOTOGRAPH WE WILL PUT AN EXTRA COPY IN THE GUEST BOOK FOR YOU AND ENCORAGE YOUR GUESTS TO LEAVE YOU A MESSAGE GIVING YOU AMAZING MEMORYS TO LOOK BACK ON WE EVEN BRING THE PENS AND GLUE!!
DONT WORRY IF WE COME ACRESS A SELLFIE KING OR QUEEN WE WONT FILL THE GUEST BOOK UP WITH THEM WE WILL PUT THE PHOTOS TO ONE SIDE AND PLACE THEM IN THE BACK OF THE GUEST BOOK BEFORE WE LEAVE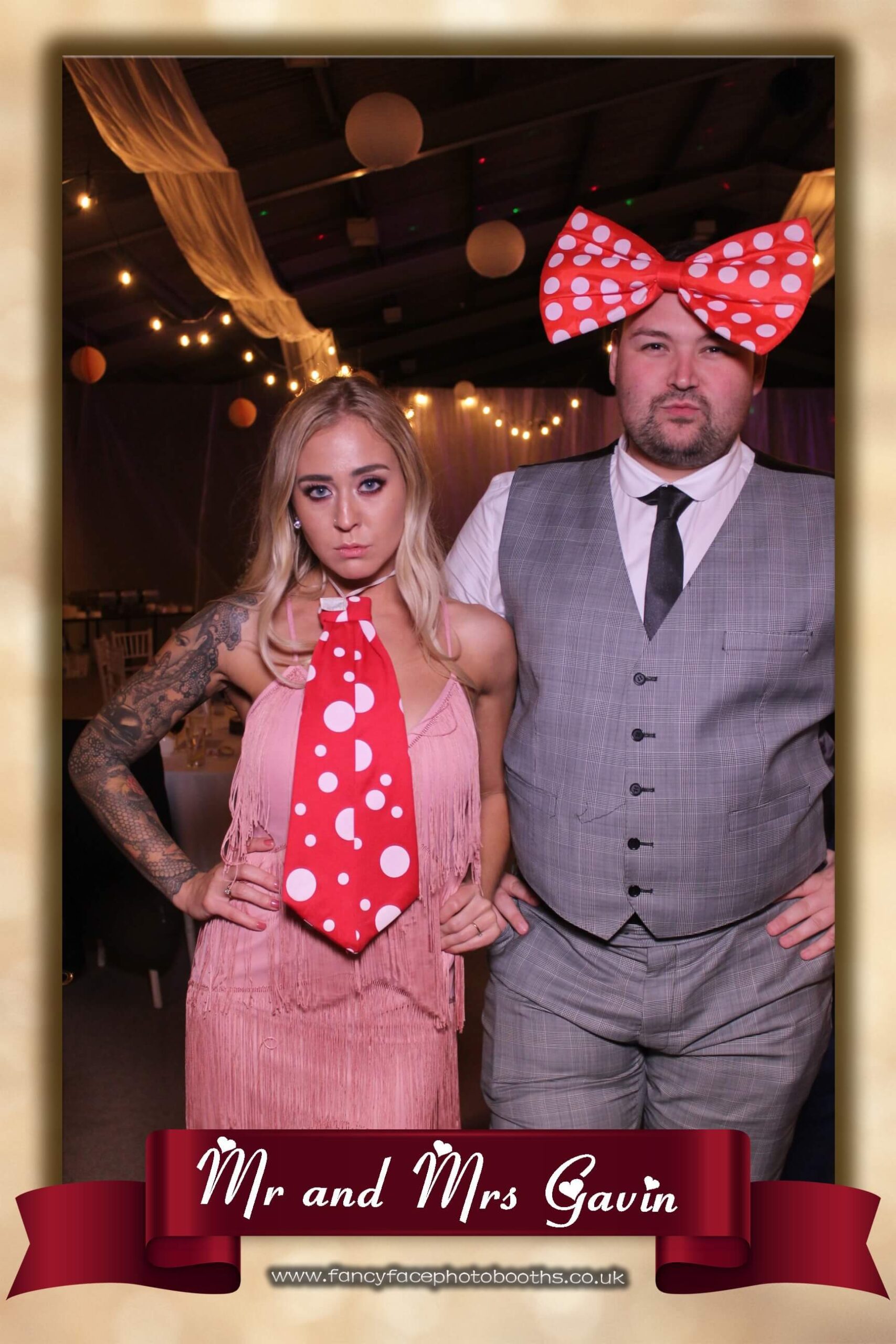 PHOTO TEMPLATE
WE'VE DESIGNED TONES OF PHOTO TEMPLATES FOR YOU TO CHOOSE FROM FROM PLANE OR MODERN FROM WHACKY TO RETRO WE HAVE YOU COVERED. 
DONT WORRY IF YOU FORGET TO TELL US YOUR WEDDING THEME WE UNDERSTAND EVERYTHING IS MAYHEM WHEN ORGERNISING YOUR BIG DAY WE WILL MATCH A PHOTO TEMPLATE TO THE WEDDING DECOR OF YOUR ROOM 
RELAX WE HAVE YOU COVERED 
PROPS? IT WOULDNT BE A PHOTOBOOTH WITHOUT A PROP BOX!.
WE'VE GOT A BOX FULL OF PROPS WE'VE LITERALLY GOT BOXES AND BOXES FULL OF DIFFERENT FUNNY, CHEESY AND FANCY PROPS 
YOU WILL FIND IN OUR PROP BOXES…. OVERSIZED CLOWN GLASSES IN DIFFERENT COLOURS, HIPPY GLASSES, BEER GLASSES, KING AND QUEEN CROWNS, POLICE HATS, SAILORS HATS,  PILOT HATS, WIGS, CHAINS   THE LIST GOES ON….
WE REGUALY UPDATE  OUR PROPS SO YOU WONT FIND ANY WORN OUT OLD TACKY  PROPS IN OUR PROP BOXES 
FANCY FACE PHOTOBOOTH HIRE FOR WEDDINGS
FOR WEDDINGS OUR CHESHIRE BASED PHOTO BOOTH HIRE COMPANY HAS NEVER OVERLOOKED THE IMPORTANCE OF A PROFESSIONAL  PHOTOGRAPHER WHILE POSED PHOTOGRAPHS AT A CHURCH AND CEREMONY ARE ALWAYS BEAUTIFUL, YOU DONT WANT TO MISS OUT ON THE FUN SIDE OF PHOTOGRAPHY WITH A PHOTOBOOTH YOU AND YOUR GUESTS
WILL LOVE IT AND ITS A GOOD WAY TO REMEMBER THE WEDDING PARTY EVERYBODY  ENJOYING THEMSELVES  AND YOU HAVE PICTURES OFF ALL YOUR GUESTS TO LOOK BACK ON IS PRICELES.
DISPOSABLE CAMERAS ARE A THING OF THE PAST  THE DIGITAL AGE IS HERE YOU ARE NEVER GUARANTEED THE QUALITY OR WHATS EVEN BEEN TAKEN ON A DISPOSABLE CAMERA ON TOP OF THAT THE COST OF THE DISPOSABLE CAMERAS  AND THE COST OF HAVING THEM DEVELOPED THEN THE WAIT GETTING THEM BACK, YOU HAVE NONE OF THIS HASSLE WITH A  PHOTOBOOTH THEY ARE THE WAY FORWARD.
OUR TOP OF THE RANGE CHESHIRE WEDDING PHOTOBOOTHS OR MAGIC MIRRORS FIT RIGHT IN WITH ANY WEDDING THEME YOU'LL BE ABLE TO PREVIEW THE PHOTOGRAPH THE MOMENT IT HAS BEEN TAKEN THEN INSTANTLY PRINT IT PLUS CHESHIRS
FANCY FACE PHOTOBOOTHS PHOTOGRAPHS CAN BE CUSTOMISED WITH A TEMPLATE FITTING YOUR THEME AND A MESSAGE, A PERFECT MOMENTO OF THE EVENING
YOU DONT HAVE TO WORRY ABOUT A THING WHEN FANCY FACE PHOTOBOOTHS ARE RUNNING THE SHOW OUR TEAM HAVE YOU COVERED WE KNOW THE WEDDING INDUSTRY INSIDE OUT WE WORK ALONGSIDE SOME AMAZING CHESHIRE BASED COMPANIES AND ATTEND WEDDING FAIRS THROUGHOUT THE YEAR SO WE KNOW THE CURRENT TRENDS.
OUR CHESHIRE BASED PHOTOBOOTH HIRE COMPANY WILL DO ALL THE HARD GRAFT FOR YOU…. WELL SET IT UP, GET IT STARTED AND HAVE THE PHOTOBOOTH READY TO GO FOR YOUR CHOSEN TIME ALONG WITH OUR PROP BOX RAMMED FULL OF FUN AND FANCY PROPS.
OUR TOP OF THE RANGE DSLR CAMERA WILL CAPTURE YOU AND YOUR GUESTS AT THEIR BEST OR WORST!. ONE OF THE FANCY FACE TEAM WILL BE ON HAND THROUGHOUT THE HIRE TIME TO HELP GUESTS WITH ANY QUESTIONS.
OUR CHESHIRE PHOTO BOOTH HIRE COMPANY WILL MAKE SURE ALL YOUR PICTURES ARE PRINTING OUT AND THAT EVERYTHING IS RUNNING SMOOTHLY. OUR TEAM WILL SHOW THE GUESTS HOW TO USE THE PHOTOBOOTH AND CHOOSE THERE PHOTOGRAPH OPTIONS
FANCY FACE PHOTOBOOTHS WILL GO ABOVE AND BEYOND TO MAKE SURE YOUR WHOLE NIGHT GOES WITHOUT A HICCUP ALL YOU WILL NEED TO DO IS ENJOY THE PARTY.